A landing page, is a standalone page that is designed around a specific goal and free of distractions. Any page on your website could, in theory, be classed as a landing page because visitors land on different pages after clicking on an advertisement, a link within an email, a call-to-action on social networking, or a number of other sources. Your primary objective is to get your visitors to take action. Perhaps you are looking to convert them into members, subscribers, or loyal customers. Or perhaps you want them to purchase your products or services. But with tens of thousands of WordPress themes available, how do you find one that specializes in landing pages? Grab your favorite beverage and check out the software landing themes below. We've done the legwork for you and narrowed the search to the best WordPress themes for software and programs that have landing pages.
KeySoft

Promote your startup software or mobile app with the KeySoft premium WordPress theme. Nine headers, three layout styles, and more give you lots of design choices. KeySoft's landing pages may consist of multiple contact forms. If you are collecting email addresses rather than generating sales, KeySoft makes things easy. With one-click demo data for setup and a comprehensive support system, the KeySoft theme is quite easy to work with. Although this theme can be customized for many landing page requirements, one of the principal strengths is linking clients with brand agents.
demo and download
get hosting
Minfox

Minfox landing page WordPress theme is a remarkable startup and support launch landing page that's extremely user-friendly. Besides its unique and contemporary look, all contact and subscription forms are fully functional, secure. Moreover, Minfox is created for all devices, not just responsive, It is fully optimized for all screen devices. Minfox is well recorded and well commented for easily customize to your own. Minfox works flawlessly on all mobile, desktop and tablet devices as a result of the perfectly calculated Bootstrap 3+ , you do not meet with slipping or picture disorder on any browser. Minfox segments created with Visual Composer and you can control everything with this page builder.
demo and download
get hosting
Spring

Spring is a software and App Landing WordPress Theme is simple to use and navigate as well. Compatible with desktop, laptop, tablet, mobile or any device. It's designed that is clean and simple, will offer your business / Marketing looks. With Smooth TRANSITION and effects it increases the attractiveness of your site. It is good for Any Marketing Company, business, agency, blog even for a personal portfolio. Spring Software and App Landing WordPress Theme have developed perfectly in 1170 Grid with clean & one of a kind UI elements that can be easily customized for making any kind of IT, Software and tech business company website.
demo and download
get hosting
Inova

Inova is a WordPress theme for a Wide Array of landing pages such as Product, SaaS, Software, App, Agency, Startup, Marketing, SEO, Business, Book, eBook Landing Pages. And every type of landing page includes unique demos, like a color background, image background, image slideshow background, video background and tons of features that will come handy while building your next landing page website.
demo and download
get hosting
Getleads

Getleads is a flexible, high-performance landing page alternative for marketing professionals. Built with HTML5 & CSS3, plenty of care and thought went into this theme making it a joy to use. There are now more than 215 components section accessible Getleads with more on the way. Getleads landing page is the perfect suit for many product or services, starting from business, advertising, agency, startup, app, corporate, portfolio, creative, level, schooling, e-learning, software, internet support, consulting, yoga, fitness, structure, carpenter, wood working, event, seminar, health, medical and more.
demo and download
get hosting
Proland

Proland is a creative WordPress Product Landing Page Theme built with HTML5 and Bootstrap integrated with Paypal, Mailchimp, Email, Woocommerce and supported all forms in the product manager. Launching a new product? Looking for a kick-ass landing page to advertise your product? Want to begin pre-ordering for your goods or to collect emails of interested customers? Want a premium landing page which can be set up and go live in less than one hour? If your answer is yes to any of the questions above, Then Proland is what you're looking for. Proland is a sophisticated Premium Product landing page theme built for Makers of Cool Products and Gadgets. If your product is in the development stage, or in a crowdfunding campaign stage, or if you are ready to start selling your goods, Proland will come in handy. Proland is a comprehensive solution for Product related conditions. It's a responsive HTML5 Theme built with the latest Bootstrap Version. It offers a wide selection of customization options, video tutorials, and an extensive documentation. Proland will be one of the templates you will really use it on your production website. Because developers of this landing theme worked hard to generate all very small details and widgets you will need to make it live. So you don't need to spend additional time to find widgets or components to your website.
demo and download
get hosting
TheSaaS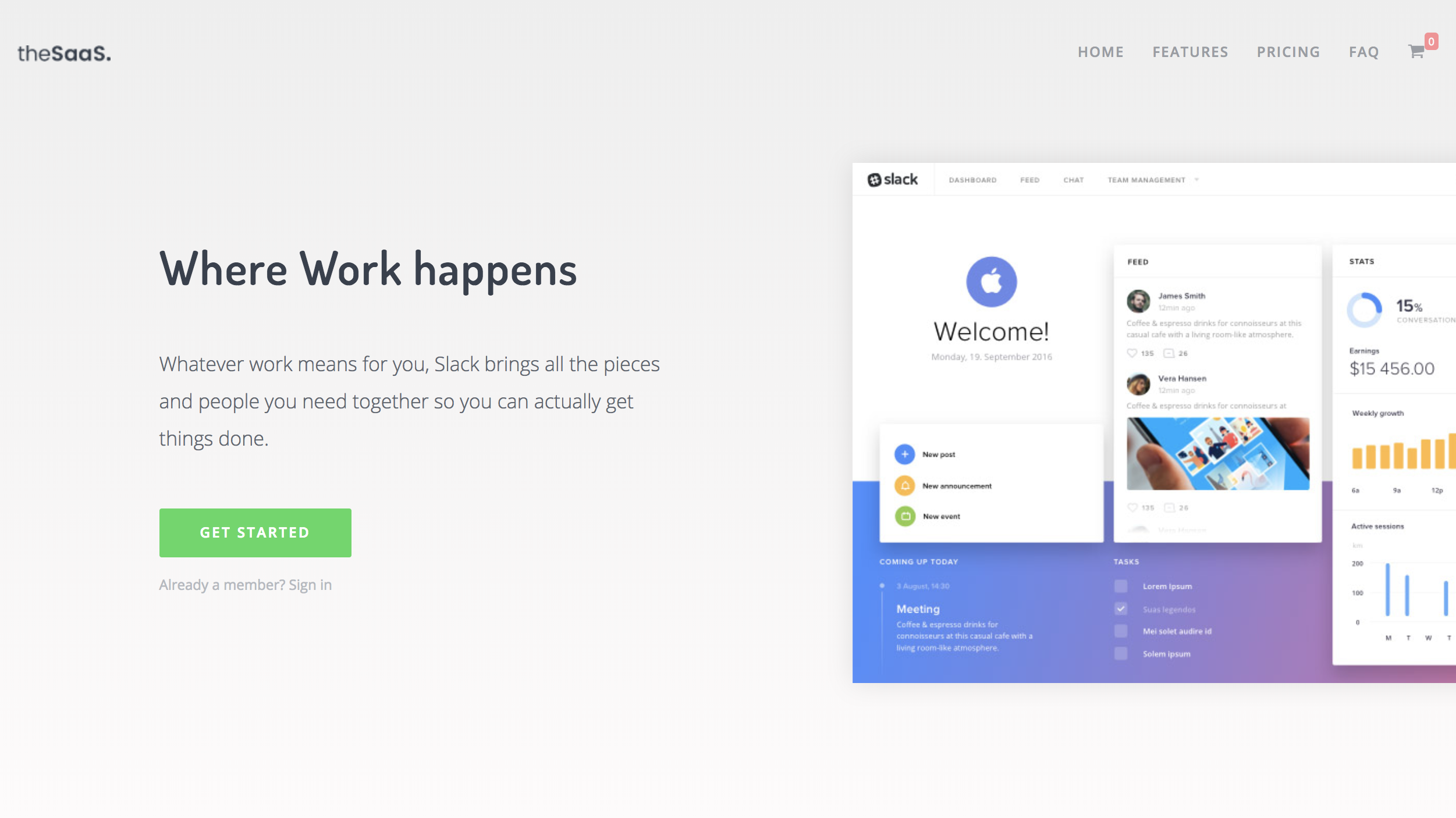 TheSaaS is a responsive, professional, and multipurpose SaaS, Software, Startup and WebApp landing theme powered by Bootstrap 4. TheSaaS is a powerful and super flexible tool, which suits best for any sort of landing pages. TheSaaS is a great kick-starter for your web project. TheSaaS design is harmonious, clean and user-friendly. TheSaaS has a huge collection of plugins and UI components and operates seamlessly on all major web browsers, tablets and phones.
demo and download
get hosting
SoftEase

SoftEase is specially designed and developed for software / SaaS merchandise. It's completely responsive WordPress Theme based on Bootstrap's most current version. Modern design which has amazing UI / UX. It's intended to improve your conversion rate. These unique tools help you stand out from the crowd. SoftEase provides a wide selection of flexible & usable features that are fun to use in itself.
demo and download
get hosting
Obira

Obira is a contemporary and simple WordPress theme to present and promote your own electronic business services with amazing layouts, Specific focus on software services and app showcasing helps to create a lasting impression on your beloved visitors. Well organized layers create your website very easy to edit, and it's a striking balance between exquisite design and solid performance. Boost extraordinary your work techniques with these ideal premade inner page layouts. Having these multiple page layouts which will accommodate and professionally work in any kind of devices regard to its size. Advanced & elegant theme options which let you build a website with no coding knowledge. Versatile and stunning blog design options allow you to craft the most admired blog layouts more stylish and relaxed. This stunning & beautiful landing software and saas theme has a solid foundation with WooCommerce that bring value to your company in the business of E-Commerce. The Obira is 100% perfect and device friendly theme, each element is carefully made to accommodate & operate comfortably with almost any device. When it comes to personalizing theme choices, Obira makes it quite simple to attain complex updates with no line of coding required. All the features you might want to upgrade, typography, headings, footers, padding and font colors are all controlled in real-time through the WYSIWYG Theme Options Panel. Create just about any web component you desire with the ease of Drag & Drop through the #1 best selling Plugin for WordPress, easy to use, no coding required, just unlimited flexibility. Obira theme is nicely organized in the color section. It is possible to change each part colors in the live preview in Customizer.
demo and download
get hosting
Softa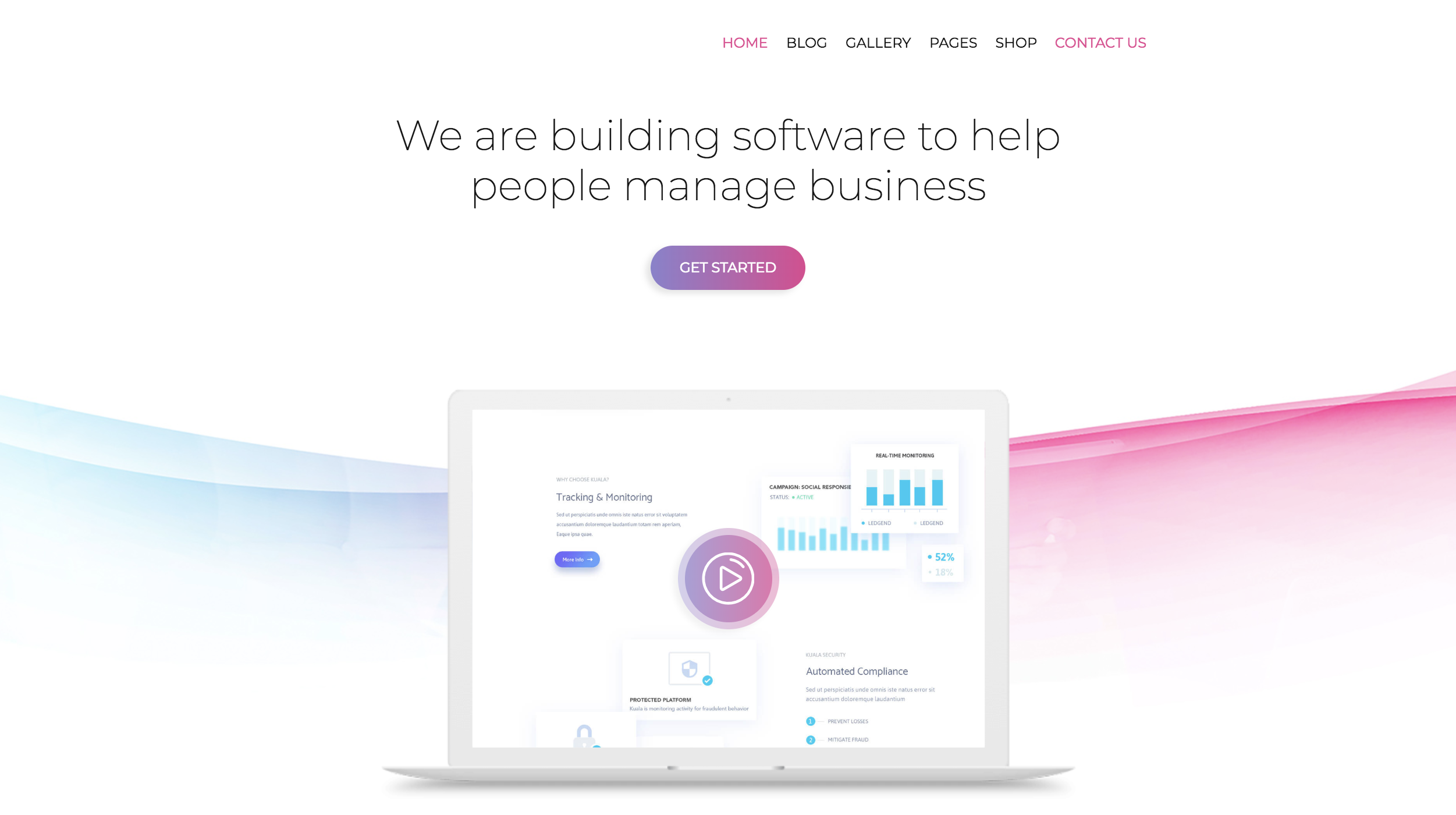 We present you an awesome Software Landing Page WordPress Theme. With it, you can create your own unique and gorgeous site for Saas, SoftWare, Hosting, WebApp, Digital Agency. Various pages and galleries will show the uniqueness of your work. We try to set many components to do you site useful and better.
demo and download
get hosting
SanJose

San Jose is specially designed and developed for software / SaaS product. It is a fully responsive WordPress Theme based on Bootstrap's most current version. Modern design which has awesome UI / UX. It's intended to increase your conversion rate. Powerful features help to create a lasting impression on your visitors. These unique tools help you to stand out from the crowd. San Jose provides a vast array of flexible & usable features which is easy to use when you are about to customize your SaaS, software or web app landing page website.
demo and download
get hosting
Pursuit

Pursuit is a premium WordPress theme, designed especially for App and SaaS startups, with a particular focus on lead generation, product and service showcasing as well as all the essential features you need to make your business successful. Now with contemporary templates for cryptocurrency exchanges, ICOs, electronic wallets, bitcoin companies and businesses. Live Drag and Drop Builder – No requirement for backend editing, with Pursuit you can build your entire site from the frontend using the Elementor live page builder. Immediately see your changes and additions with no delay!
demo and download
get hosting
Softee

Softee is specially designed and developed for software / SaaS landing page. It is a fully responsive saas WordPress theme based on Bootstrap's most current version. You don't need to be a coder to construct beautiful pages. Just drag-n-drop components to make your ideas happen.
demo and download
get hosting
GEO Plus

WordPress App Landing Theme & WooCommerce Store Theme, Landing Page Theme. GEO PLUS is an ideal example of Web Apps Landing Website. It can be used as App Landing Page, Marketing Landing related website. The elegant design with all necessary element & pages helps you to develop a fantastic brand. The perfect & well-structured code makes your website fast & device friendly. GEO PLUS is perfect for any app landing page, also suitable for business website. GEO PLUS Built With Bootstrap 3+, Visual Composer Page builder and stunning features including.
demo and download
get hosting
Evoke

Evoke is a modern WordPress landing theme which draws its inspiration from simplicity with function. The primary purpose for this WordPress theme is to showcase your web app or SAAS application, using an overall aesthetic that entices users to explore the functionality and features of your application.
demo and download
get hosting
Leave a reply